An icon of the Indian two-wheeler industry, everyone is well familiar with the Bajaj Pulsar. It has been around since 2001 and is one of the first choices of many enthusiasts. And with such a craze comes crazy modifications. One such modification has been done by Febin_Zuk where he has taken a 2004 Bajaj Pulsar and modified it into a whole new beast. It's time we take a look at the project that took Febin almost a year and a half to complete. And if you want to know why this ambitious project was named 'Project 69', stay tuned till the end. Let's get started.
Bajaj Pulsar 150 | The bike that never knew what was on the other end!
No offence to the Fastest Indian, but this was an ordinary Bajaj Pulsar 150 before meeting Febin. This bike had no idea that after 15 years, someone was going to change it completely.
It had a 143cc air-cooled engine which was capable of producing 14hp of power and a peak torque of 12Nm. The old-school yet enthralling styling from 2004 was still on there (Well, most of it).
Now the Paradigm Shift!
COVID-19 was in its initial phases. But, Project 69 was completed. The basic 2004 Pulsar was now completely different in terms of looks as well as performance. Let's list down the modifications done by Febin on this bike.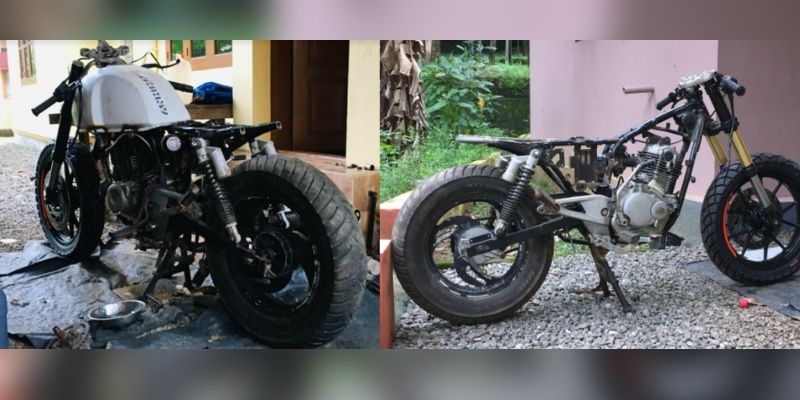 In order to accommodate a bigger tank or the VISION of Febin, the chassis of Pulsar 150 had to be modified. The tank in talks here has been sourced from RE Himalayan. The handlebar has been replaced with the imported clip-on handlebar which helps Febin to move the '69' at his will. He also sourced alloys as well as the disc brakes from Bajaj's owned KTM. The conventional forks have been replaced with 41mm Upside-Down forks, again sourced from KTM. And to make sure that he is always in control of this bike, Bajaj Dominar 400's brake callipers have been installed.
Now if you take a look at the size of tyres, you can simply tell that the swing arm of 2004 Pulsar could not have accommodated that. That's right, a customised swing arm has been installed on this 'Project 69'. The rear tyre you see there is a 140/90 15-inch monstrosity and at the front is a 120/70-inches. The rear bump has been fabricated from fibre-glass to give this bike the caf racer feels.
A modification without any performance enhancement is just not Febin's cup of tea!
He has taken one step further with this ambitious 'Project 69' and installed an engine from the Pulsar 220 which produces 20hp of power and a peak torque of 18.5Nm. To make sure that this bigger engine gets enough airflow, a K&N air filter has been installed. Due to this upgrade, the carburettor had to be re-jetted to accommodate the increased inflow. Now that is some seriously heavily modified Bajaj Pulsar. What do you think? Do let us know in the comments section.
And, yes the name!
A bike with such looks and performance is enough to draw attention. But taking it one step further, Febin named it 'The Project 69'. Well, according to him, this name was kept just for 'FUN' purposes and nothing more. For me, it was enough to keep you glued to the article.
But if you ask me, the numbers '6' and '9' are the opposite of each other or let's say a flip image of each other. And that is what Febin has done here. A complete flip with the Bajaj Pulsar. And, now before I start sounding mindless, do not forget to follow Auto-Dive India on Instagram as well as Google News.