Petrol prices have already crossed ₹100 in Mumbai yesterday, i.e. 29th May 2021. There is no sign of these prices going down. Electric vehicles are still not a viable option in many parts of the countries. This leaves us with no choice but to go for the most fuel-efficient best mileage petrol cars. So, here is a list of cars with the best fuel mileage petrol cars (company-claimed mileage).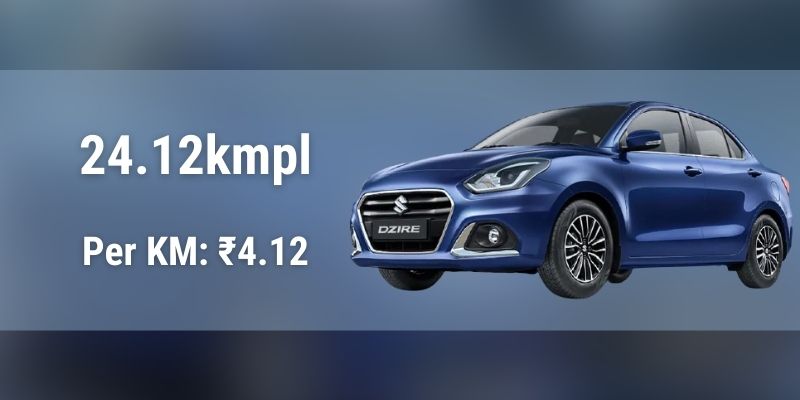 We'll be taking the price of petrol in Mumbai on 30th May 2021: ₹100.19 for all the calculations in the article. All the prices mentioned for the cars are Ex-Showroom: Mumbai
Maruti Suzuki Dzire AMT (24.12kmpl)

Maruti Suzuki is still on the top of most fuel-efficient petrol cars in India with the sedan counterpart of the best selling car. You get a K12B 1.2-litre VVT petrol engine under the hood. The company claimed mileage of Dzire is 24.12kmpl. Do note that this mileage is for the 5-speed AMT version. It comes with an idle start-stop feature which helps in improving the mileage. For every kilometre travelled, you will spend ₹4.12 on a Dzire for fuel. You will have to spend ₹7,54,000 for the VXI AGS variant.

Maruti Suzuki Baleno (23.87kmpl)

Another car from the same carmaker. Baleno is one of the best-selling hatchbacks from the NEXA channel. The premium offering comes with a 1.2-litre DualJet VVT engine mated to a 5-speed manual transmission. You can cover 23.87 km on a single litre of petrol as the company claims. Doing the vigorous calculations, we get a per km expenditure of ₹4.19. The NEXA hatch comes at a cost of ₹7,91,000 for the Delta Automatic Petrol variant. Do note that this is the only Maruti Suzuki offering that has a CVT on offer.

Maruti Suzuki Alto (22.05kmpl)

India's best-selling car till 2019 only to be dethroned by Maruti Suzuki Swift offers a mileage of 22.05kmpl making it 3rd on the list of best mileage petrol cars. For every kilometre, you will have to spend ₹4.53. The base variant Alto starts at ₹2,99,800. You get an F8D 796cc engine mated to a 5-speed manual transmission.

Renault Kwid 1.0 AMT (22kmpl)

The only car on the list which is not from India's largest carmaker, Maruti Suzuki! Kwid with the 1.0-litre SCe engine mated to EASY-R AMT provides a mileage of 22kmpl. The RXL 1.0 EASY-R variant of Renault Kwid will cost you ₹4,80,100. As for the per kilometre expense, it comes to ₹4.54!

Maruti Suzuki WagonR (21.79kmpl)

India's most loved family tall-boy car! The 1.0-litre K10B engine under the hood mated to a 5-speed MT or AGS can return 21.79kms on a single litre of fuel. This brings per km cost at ₹4.59. For the LXI 1.0-litre, you will have to spend ₹4,80,500 while for the VXI AGS, you will have to shed ₹5,63,000.
So, these are the 5 most fuel-efficient cars in India under ₹10lakhs. What do you think about the increasing fuel prices? Do let us know in the comments section below.