While it comes as sad news for the Indian automotive industry, there is a lot more to know about Ford India's decision behind ceasing the production for sales in India. What will happen to the customers who have already purchased cars from Ford India? What will happen to the unsold inventory at the dealerships? And, what will happen to the employees? Let's answer all these questions.
First things first, why did Ford India decide to exit the Indian market?
Firstly, this is not a complete exit, for now. Ford has completely ceased the production of vehicles for sale in India. Ford has incurred a cumulative loss of $2 billion in the past 10 years. This has led to the decision which Ford is calling restructuring of the India operations. Ford will continue to provide support for service, spare parts, and warranty for all its customers.
The manufacturing for export vehicles at the Sanand plant will cease by the end of Q4 of 2021 while Chennai's engine and vehicle assembly plant will work till Q2 of 2022.
What will happen to the employees at Ford in India?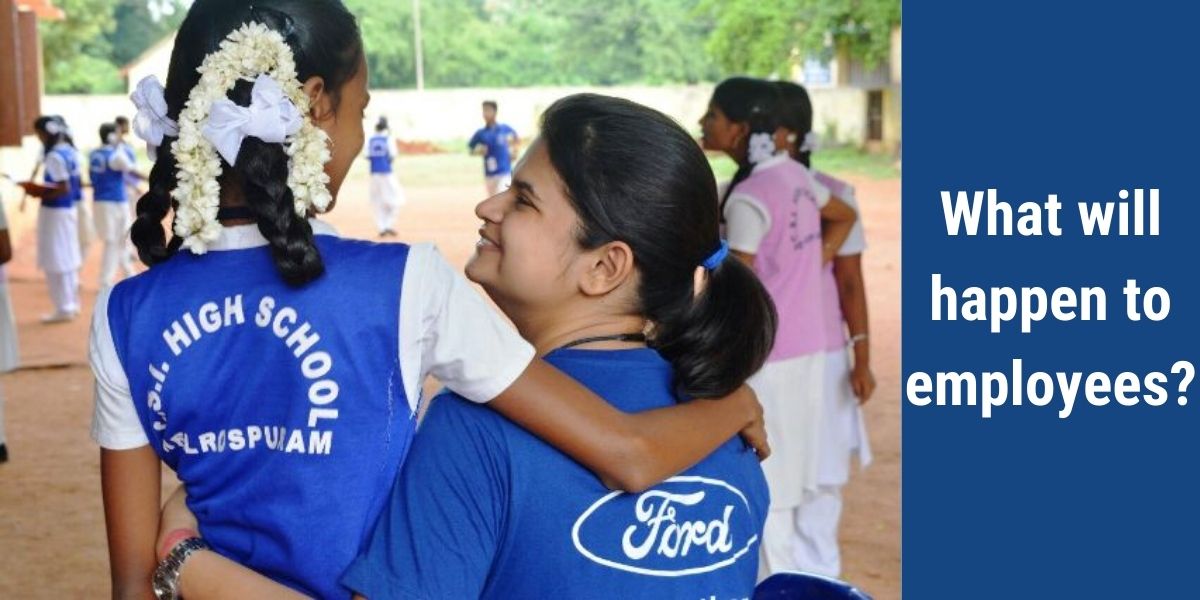 Ford claims that India will remain home to the company's second-largest salaried workforce globally. Currently, Ford employs around 11,000 employees directly. According to Ford, we can expect around 4,000 employees to be affected due to the restructuring and the company will closely work with the union leaders and the government for mitigating the effect.
Ford business solutions plan to expand its operations in India to provide more jobs for data scientists, software developers, R&D engineers, and finance and accounting professionals. Ford will keep working with the team in India and it will still be the world's second-largest workforce for the company.
What happens to the suppliers and dealers of Ford in India?
Ford has assured that it will be working closely with the suppliers to keep up with the demand globally. It will also be helping the dealers to transition from sales and services to service and spare parts support. FADA states that dealers of Ford currently have an unsold inventory of ₹150 crores.
This does look reassuring but the dealers who have recently been onboarded will face a big problem here. They will not be able to make up for the losses until the company decides to help them. According to a press release by FADA, Ford was onboarding dealers till 5 months back. FADA says that such dealers will be at the biggest financial loss in their entire life!
The major problem that is going to be faced here is that the dealers employ around 40,000 people (According to FADA) which are going to be affected during this transition.
What happens to the customers?
First of all, depreciation! As a Ford car owner, if you are going to sell your car, you will face a massive depreciation, as of now. It will be the same as was seen in the case of Chevrolet. For those who don't plan to sell their cars, there's nothing much to worry about as the genuine spare parts and service support will be continued as Ford is not completely winding up the operations in India. It is really advised for the Ford car owners to not make any decision in a hurry and sell their cars at much lower costs and incur a loss.
Ford cars are built to last and you will have the service support, so keep the car and continue enjoying the American build quality, while it lasts. You will surely hear things like Ford cars won't be of any benefit now, you must sell them immediately and so on, but it will be in your best interest to stick with the car.
What can we learn from Ford India's decision of exit or as they like to call it, restructuring?
While India continuously grows to become one of the major automobile markets in the world, Ford's exit is surely a dent in this growth. Ford has offered some quality products over time unmatched by the majority of carmakers in India. The ceasing of manufacturing means less competition in the Indian market.
FADA has been urging the government to roll out Franchise Protect Act. This act has been active in countries like Brazil, Russia, China, Japan, Malaysia, etc. which protects the dealers in case of sudden decisions like these. According to the association, Ford India is 5th largest exit from the country since 2017.
As customers, we need to understand that quality comes at a price. You will have to pay a higher amount if you look for robust build quality.
Who is at the fault here? 
Actually, Ford's management is at the fault here. Why was there news of a facelift for the Ecosport when Ford knew what's coming? Why did Ford launch new products when it was going to end the production in India completely? Ford had good products, no doubt, but they were surely outdated. A good marketing strategy while also making sure to update the products could have worked in a different way for the company, take, for eg, Skoda.
Ford India Exit: Verdict
While people are calling it a sudden move, this was inevitable. Ford did make us believe that the company is going to stay by launching the Ford Figo AT and with all that spy shots of a facelift for Ecosport. But with all the pandemic situation and decreasing sale numbers, it was clear that Ford come to this conclusion sooner or later.