Everyone knows that there's always throat-cut competition in the auto industry. So, the companies are required to innovate their auto products to lead in the industry. Mahindra is known to invest in their R&D and launch amazing new features in their cars. The company has recently launched ADAS with its latest Mahindra XUV700. This system is not available in any of the vehicles available in the Indian market under ₹25 Lakhs. The upcoming MG Astor will also have an ADAS-level 2 as well. 
Basically, what is ADAS? Advanced-Driver Assistance System is simply a combination of several advanced electronic technologies. They are grouped to assist the drivers in driving and parking. Seems interesting, right? Let's dig deep into its amazing features.
Feeling drowsy? This feature will not let you sleep!
This feature will be a lifesaver for many. People usually go to work with incomplete sleep or drive long distances without any rest. So, this causes them to feel drowsy and increases the chances of an accident. These kinds of accidents take several lives daily. This feature detects when the driver is feeling drowsy and is not active enough. The system wakes him/her up by analyzing the behavior. That's such a cool and life-saving feature. It gives an alert asking the driver to provide input preventing him/her from falling asleep when cruise control is activated.
Automatic Emergency Braking (AEB): Mahindra XUV700 ADAS
AEB is an advanced version of the collision warning system. The collision warning system just provides a warning to the driver. But sometimes the drivers are helpless or nervous enough not to take any action to stop the collision as their reflex actions stop working. To solve this problem, automatic emergency braking not only warns the driver but also automatically engages the brakes to stop the collision. It also controls steering at the same time to take control of it, reducing the damage or preventing it completely if possible.
Let's stay in the line with lane keep assist
Lane keeps assist is one of the greatest features advanced and innovative cars offer. This feature is usually seen in only luxury or high-end cars. But, Mahindra has introduced it in its latest XUV700. What it does is that the sensors identify the lanes on the road. Then it automatically keeps moving inside the lane. This way it will prevent drivers from going out of the lane and taking some rest in-between on long journeys as well.
Did someone whisper a high beam? Here's High Beam Assist
High beam assist is one of the premium and high-end features. Additional headlamps will be engaged to provide the driver with a more glowy view as the vehicle crosses 80kmph. It will also help the driver to look at more distance. 
Adaptive Cruise Control: Mahindra XUV700 ADAS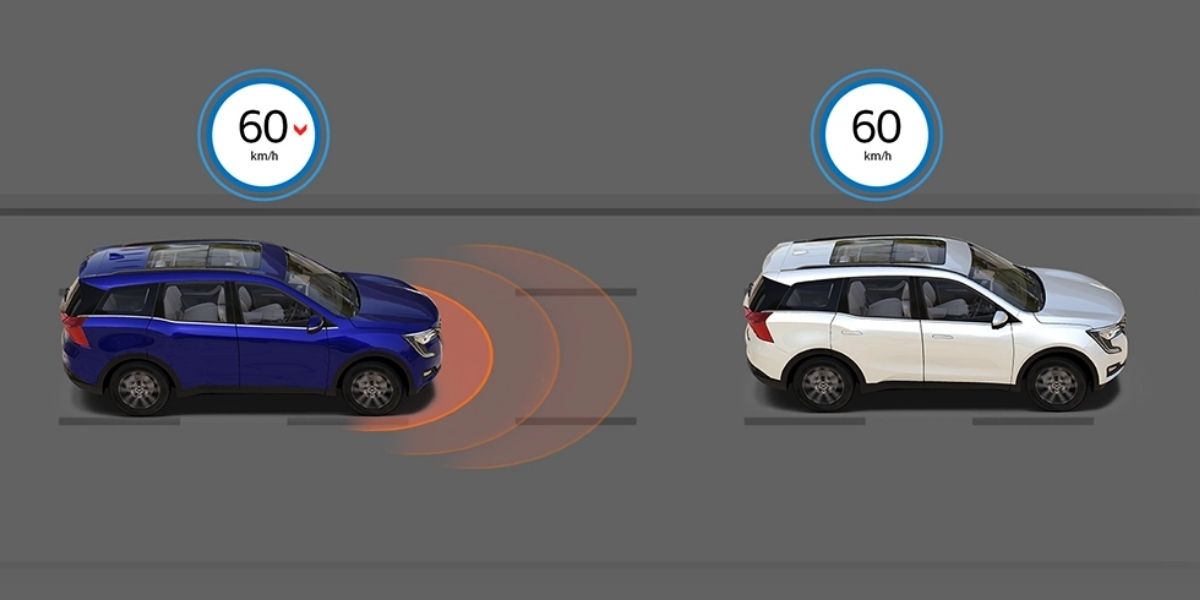 It is also one of the amazing features that only top-end or luxury cars have to offer. Cruise control takes control of the acceleration and braking both when the driver engages the feature. It monitors other objects or vehicles on the road and engages the acceleration and brake accordingly. Sometimes drivers face issues in maintaining a steady speed and this solves the problem easily. The Mahindra XUV700 can use ADAS to detect cars and move accordingly and engage braking. 
Mahindra has provided fresh competition to the auto industry by introducing such a futuristic vehicle at this price point. It will be interesting to see how other automakers respond to it.